Valuations & Opinions
Lincoln International delivers accurate valuations and opinions to public and private company management teams and boards of directors.
What We Do
Lincoln's global Valuations & Opinions professionals bring real world experience and deep industry expertise to every one of its engagements. We provide sophisticated, reliable results in all types of valuation methodologies, including:
Portfolio Valuations
Specialize in illiquid asset valuations of alternative investments such a private credit, private equity and other derivative securities.
Business Valuations
Perform business valuations for a variety of purposes including for financial reporting, tax, buy-sell arrangements, restructuring, litigation and other strategic matters.
Transaction Opinions
Provide independent fairness, solvency and other transaction opinions to a diverse range of clients.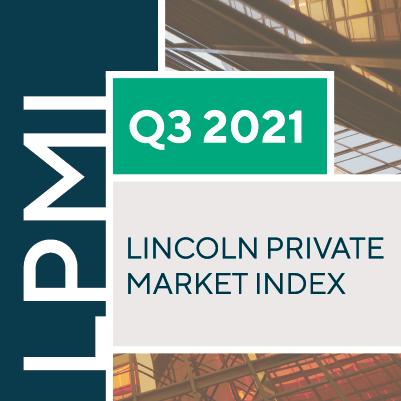 Private Company Performance Lifts Lincoln International's Private Market Index to New Heights
Private company enterprise value growth continued in the third quarter as the Lincoln Private Market Index (Lincoln PMI), formerly known as the Lincoln Middle Market Index, grew 6.4% in Q3 2021, the second-highest quarter-over-quarter growth since its inception seven years ago. This growth was primarily a function of strong fundamental performance among private businesses, even as U.S. economic growth slowed in the third quarter.
Read More
Perspectives & Publications

The Lincoln Middle Market Index is a first-of its kind quarterly index that tracks the enterprise value of more than 1,800 privately held, mid-market portfolio companies for approx. 100 sponsors… Read More

Originally published by CFO Dive on April 14, 2021. The outlook across sectors is better than expected, but forecasts must be achievable. When the pandemic began, CFOs tended to be… Read More
Our extensive client list includes many of the largest and most well-known businesses and investment companies, credit opportunity, private equity, venture and hedge funds. Recognized for our integrity and reliable results, we also have strong relationships with major accounting and law firms and domestic and international lenders and other investors.