Real Connection. True Perspective.
We provide the strategic guidance and thoughtful execution that leading investors and executives need to succeed.
Outperform Expectations
Unique insights backed by rigorous process and delivered by people who are deeply connected to your success. It's how Lincoln International clients achieve their goals — and outperform their highest expectations.
Learn More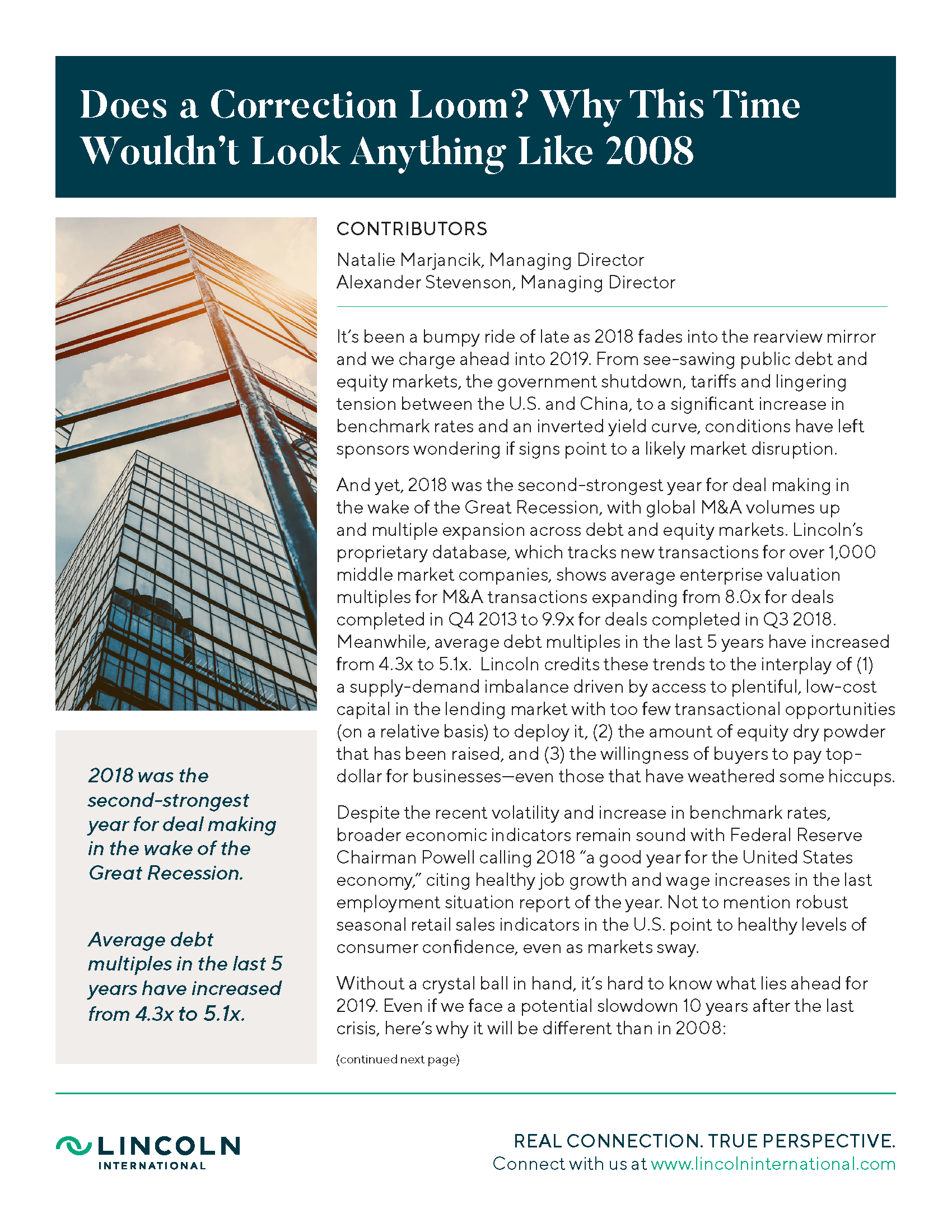 Does a Correction Loom?
Why This Time Wouldn't Look Anything Like 2008
2018 saw the second-strongest year of deal making in the wake of the Great Recession, with global M&A volumes up and multiple expansion across debt and equity markets. Broader economic indicators remain sound. Yet, with the recent shutdown, China and U.S. tensions mount, and equity markets see-saw, many wonder: is a correction around the bend?
Without a crystal ball in hand, it's hard to know what lies ahead for 2019. But as we charge ahead into 2019, Lincoln International Managing Directors, Natalie Marjancik and Alexander Stevenson, unpack the current state of deal making and spell out why they believe that even if we face a potential slowdown 10 years after the last crisis, it will be remarkably different than in 2008.
Read the Lincoln Perspective to find out why and for actionable opportunities for today's environment.
Read the Full Article

Distribution Market Update Q4 2018
2018 was an active year for M&A in the Distribution market across numerous sub-verticals. Both strategic and private equity buyers remained very active.
Engaged Advisors
As strategic in processing transactions as they are in advising on markets and opportunities, our people are passionate about what they do, deeply invested in your success and relentless in helping you achieve optimal results.
What We Do
Our advisory services support organizations when selling or buying a business, securing financing solutions, establishing joint ventures and partnerships, valuing their organization or portfolio, or navigating special situations.