Lincoln International Releases Q4 Middle Market Index, Private Middle Market Companies Generated Greater Equity Returns Than The S&P
Feb 2019
Private middle market companies generated greater equity returns than the S&P and proved less volatile than public markets
Lincoln International released the Q4 2018 issue of its Lincoln Middle Market Index (Lincoln MMI). The Lincoln MMI is a unique index measuring enterprise values – and new for this quarter, equity values – of mid-market companies.
The first-of-its-kind index provides a useful benchmarking tool for investors in private companies and private equity firms, allowing them to track how comparable enterprise and equity values change over time and correlate to the public stock market.
View the full report here and an interview on Bloomberg TV with Lincoln Managing Director, Ron Kahn.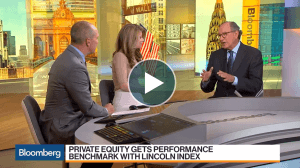 Key observations of the Q4 2018 Lincoln MMI include:
The Lincoln MMI grew at a compound annual growth rate of 6.2% since inception as compared to 5.5% for the enterprise values of the S&P 500.
Over the past year, the Lincoln MMI increased by 6.7% whereas enterprise values of the S&P 500 decreased by 4.2% as a result of volatility in Q4 2018.
In 2018, equity values of the Lincoln MMI grew by 13.8%, while the S&P 500 declined by 6.2%.

Driven by more stable enterprise value multiples, private middle market equity values declined just 4.8% compared to a 14.0% decline in the S&P 500 for Q4 2018.

Since its inception in Q1 2014, the Lincoln MMI has 

shown that middle market enterprise value multiples 

have been less volatile than public company multiples 

and that earnings, which grew for all companies in 

every quarter in 2017 and 2018, drive long term value 

creation.
---
Important Disclosure
The Lincoln Middle Market Index is an informational indicator only, and does not constitute investment advice or an offer to sell or a solicitation to buy any security. It is not possible to directly invest in the Lincoln Middle Market Index. Some of the statements above contain opinions based upon certain assumptions regarding the data used to create the Lincoln Middle Market Index, and these opinions and assumptions may prove incorrect. Actual results could vary materially from those implied or expressed in such statements for any reason. The Lincoln Middle Market Index has been created on the basis of information provided by third-party sources that are believed to be reliable, but Lincoln International has not conducted an independent verification of such information. Lincoln International makes no warranty or representation as to the accuracy or completeness of such third-party information.